6/23/2009 |
Posted by MrsAshley
|
Edit Post
Pin It Now!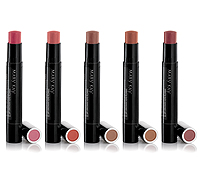 Mary Kay has a new 3 in 1 product. Protect, moisturize, and color in one easy step! This is a must have for summer multi-tasking. Now there's no longer a need to put on SPF lip balm, lipstick and lip gloss to get a great look. This
tinted lip balm comes
with a SPF of 15 already inside. At only $13 a pop this is a great summer accessory.
When following the links in this post you can go to the MK website and save $3 on this or any purchase! You must use coupon code "Beauty4MomsJune" in the comment box when checking out to receive the discount. Only vaild through the month of June. Now your tinted lip balm will only cost $10 plus tax. Plus free shipping on orders $20+.
Labels:
$3 Coupon Code for Mary Kay's NewTinted Lip Balm